Give Aways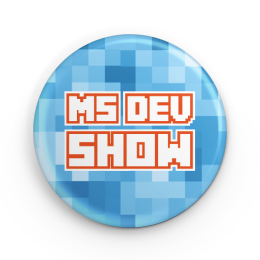 Stickers - Free! Just stop by our table during the conference and pick some up. Don't forget a few for those who couldn't come camping with us this year at ThatConference.
Button - Tweet out something awesome to all your Tweeps while mentioning @msdevshow, bonus points for @ThatConference. Limited quantity, these are on a first come, first served basis.
Hat - These bad boys are pretty rare. To get yours, you must meet the same requirements for a button as well as tweet out your love of your favorite Windows Store or Windows Phone app, with a link to it. In addition, this can't be Facebook, or anything really huge. Please give your favorite indy dev some love.
As always, when we run out, we run out. Carl and Jason are free to reinterpret the rules at will and have final say in all arbitration matters. Oh, and most of all, have fun at ThatConference